#DAMAGIRL: Angeles Almuna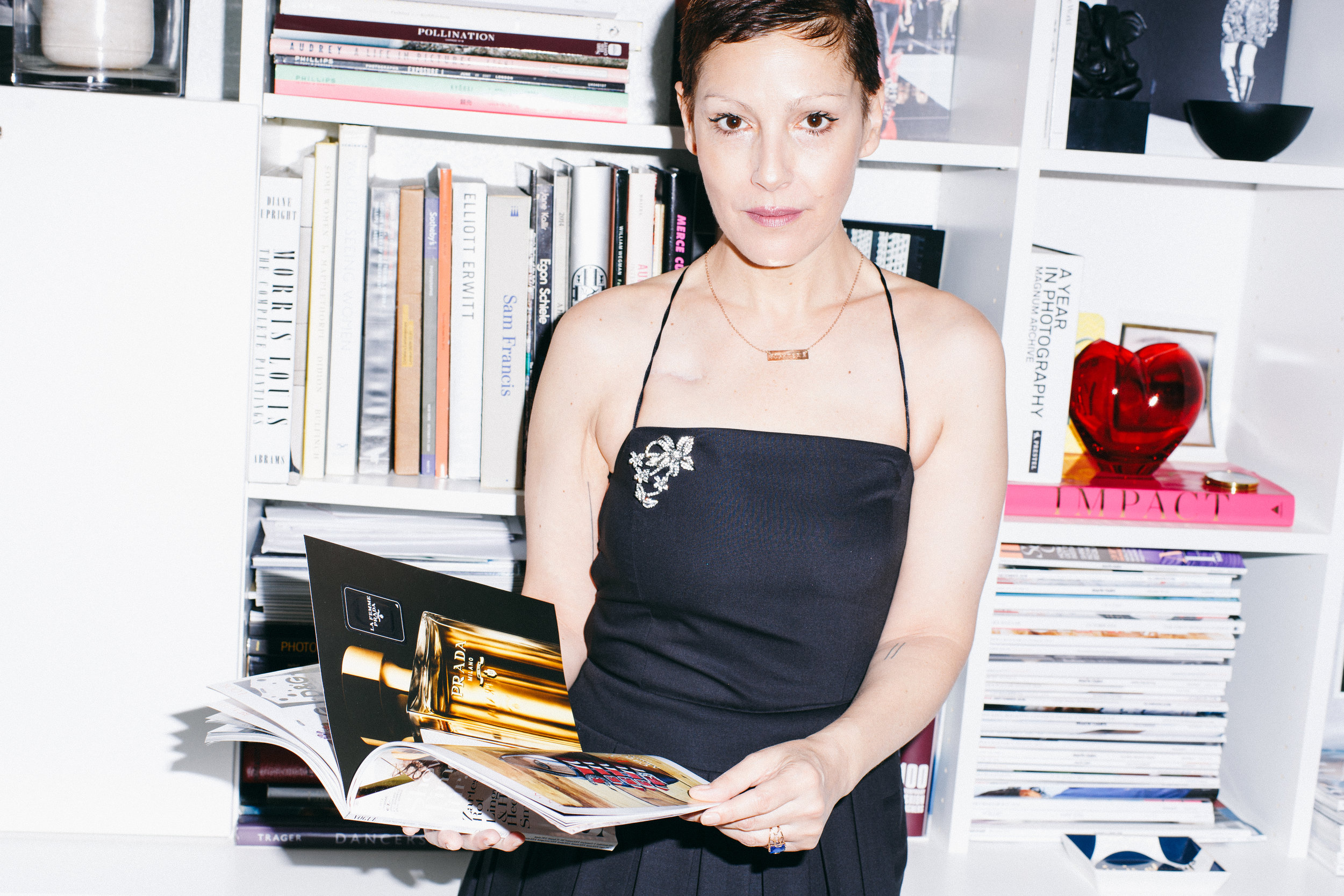 What was the first thought you had this morning?
My first thought every morning is to be happy and grateful because I am alive that I have such great opportunities. Like today! I have to be incredibly thankful because DAMA came to my apartment for an interview and photo shoot. Thats a reason to be happy in the morning, don't you think?
Tell us about your life in Miami. How did you end up residing here?
My life in Miami is surrounded by art and fashion everyday. I work at The Lowe Art Museum at University of Miami, I do styling for magazines and productions and I collaborate with artists on events and other creative occasions that are happening in Miami. I originally came to this city to follow a dream to pursue my dancing career. I taught flamenco, ballet, tango and modern dance for many years. It was a fabulous experience and some of the greatest years of my life.
Where did you grow up? What was your childhood like?
My father is from Chile and my mother was Spaniard I grew up between the two countries. My childhood was very unconventional because my parents loved to travel and I never stayed in one place. Luckily, this gave me the opportunity to study abroad. I went from Cambridge to Geneva, to Seville and Chile, and then finished in Miami Beach. I was born an artist and have always been passionate for theater, acting, dancing, music, culture and museums. Even as a child I would play with my mothers clothes as if I was the owner of a Parisian Boutique. I consider myself a dreamer and a very creative person. I'm thankful for my unconventional education because it made me who I am: a special unconventional lady! Haha!
 
How did you enter the world of fashion photography and shooting for runway shows?
I studied art for 5 years and learned how to use a camera during that time. I always had a love for fashion and being behind the camera. I started my blog around 2009 because I wanted a platform to share my designs, events, and the fashion scene and culture in Miami. One day I was given an amazing opportunity to cover some important events in Miami Beach and from being in the right place at the right time, I met two incredible men that day (who both still work in fashion and became my friends) and they offered me an opportunity in life that you can't say no to. Shortly after meeting them, I received an invitation to New York to attend Fashion Week. I covered the most amazing shows! From Marchesa to Maison Margiela and many more that you can check out on my website!

I eventually went on to be the in-house photographer for Zac Posen. It was a dream come true and they offered me to be the "shadow" of Zac Posen. I followed him everywhere and captured the magic moments that happen backstage during a fashion show. I did that for 3 years and soon began working for Bill Farrel Agency. My photographs were published in Bazaar, Glamour, Vogue Russia, Refinery 29 and more. Now, I'm working on making a come back but I also do fashion styling and I'm open to experimenting with more creative projects within the fashion world.
Whats the biggest obstacle you've encountered during your career?
In my honest opinion, working in the fashion industry is difficult for anyone. There are a lot of challenges you face and its a small world. I knew from day one it would be a difficult career to even conquer just a small corner of this industry. In my case, the biggest obstacle was and is today, is to remember that you can achieve your goals. I have been working very hard and showing everyday that I have a talent. As an immigrant, I came to this country without a famous last name or connections. I only had my studies, experiences and a dream. You have to get that courage that you can be someone and never give up. I was told "no" many times and had to ask several times until they knew me for my work. Now, I feel like I'm respected and that people believe in me. I have to say that any career is difficult and you have to be perseverant and focus on your success to reach your dreams. I'm still not done! I'll always continue looking further for more opportunities in this creative life.
Who is someone you've always looked up to?
Although it may be a stereotype to many, I've always looked up to my mother. She was a beautiful woman, inside and out. She was a strong and chic Spanish woman who taught me how to be independent and to never give up. Even though wasn't perfect, she took care of me in nontraditional way and was very modern for her time. I learned from her how to be open in life and to always be generous with people. She passed away a long time ago from an illness that she was suffering from. She always told my brother, sister and myself to be proud of our roots, stay humble, be true to ourselves and always be respectful of others. Her strength left a strong impact on me and gave me the energy to fight my own illness when I was diagnosed with cancer. I am so grateful that I had such a "cool mami", but she went out of my life too soon.
What is the most amazing thing about being you?
I don't think I'll ever be ready to answer this question. I feel that I don't have the authority to say "what is the most amazing thing about me" but, I can say that I am "just me", I am Angeles.
What is one word that perfectly describes who you are?
UNIQUE! Haha!